Talent Management Tips for Aspiring Localization Professionals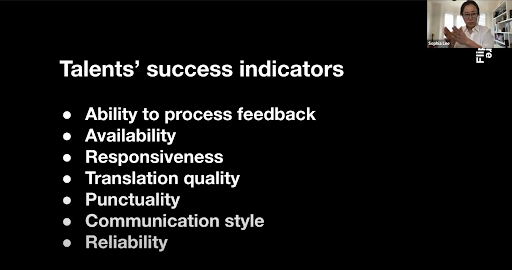 I was invited to speak with
Alaina Brandt
's students in her Translation Quality Management class at
Middlebury Institute of International Studies at Monterey
on Wednesday, 5/10. We had a lively discussion, which was held in a casual Q&A format, and here is a glimpse on some of the things we talked about.
How we see talent

Working with freelancers or independent contractors often comes with the territory in the localization industry. At Culture Flipper, we do not call them vendors, and we even stopped calling them resources. Around 2 years ago, we started calling them "talents" to show our respect and to interact with them as intelligent humans with a full range of emotions. Our project managers view them truly as "talents," gifted individuals who excel in their field as multilingual language experts, editors, writers, terminologists or subject matter experts.


How we assess talent

Like many other companies, we review resumes for initial screening. But how we go beyond the resume with selected promising talent candidates is where we differ.

For hard skills, which is translation proficiency in the case of a language expert, we invest the time to administer rigorous, comprehensive written tests that we evaluate in great detail.

For soft skills, we look to see if a talent is:
Available and responsive
Reliable and responsible
Proactive and respectful in communication
Able to process and apply feedback

Given how much our culture affects our teamwork and creativity, we consider the soft skills to be just as (if not more) important as the hard skills. Luckily, we find that these two skill sets often go hand-in-hand.


How we detect indicators of success

It takes one to know one. Our project managers are highly skilled talents, and they start looking for early signs of success factors in candidates.
Initial Communication: When we invite a talent to a written test we study how responsive they are, their email writing ability, and their communication style.
Ability to Follow Instructions: When administering the written test, we see their ability to follow the instructions and fully understand what they are being asked to do.
Written Test Evaluation: When evaluating their tests, we compare how their writing skills and style align with what we have seen from them so far.
On-the-job Evaluation: We then implement a 3-week on-the-job evaluation for in-depth assessments of their work and how they interact with other team members in chats, syncs, task comments and emails.
Trial Phase: Finally, we have a 3-month trial phase to see how they receive feedback and apply it to their work.

This multi-tier approach to talent assessment ensures quality talent. Culture Flipper is known for quality work, so we make sure we work only with the best.


How we maintain quality through talent management

Once a talent has been onboarded, they become a fully participating member of the team that is highly skilled, hardworking and efficient. Then, as a team, a concerted effort is put forth in the following ways:
A system of checks & balances conducted on all deliverables
Discussion of in-between steps with all relevant team members
Attention to detail [Culture Flipper is obsessed with detail]
Uplifting one another to have a positive attitude about collaboration and openness to feedback

The project managers at Culture Flipper don't just manage projects or tasks. Talent management is an integral part of what they do, because so much of quality management depends on it.


Note: Proper name localization, especially food names, was another meaningful discussion topic. Proper name localization is such a complex matter that it will be a separate topic in itself I will have to write about as a series.