What fixes localization quality issues?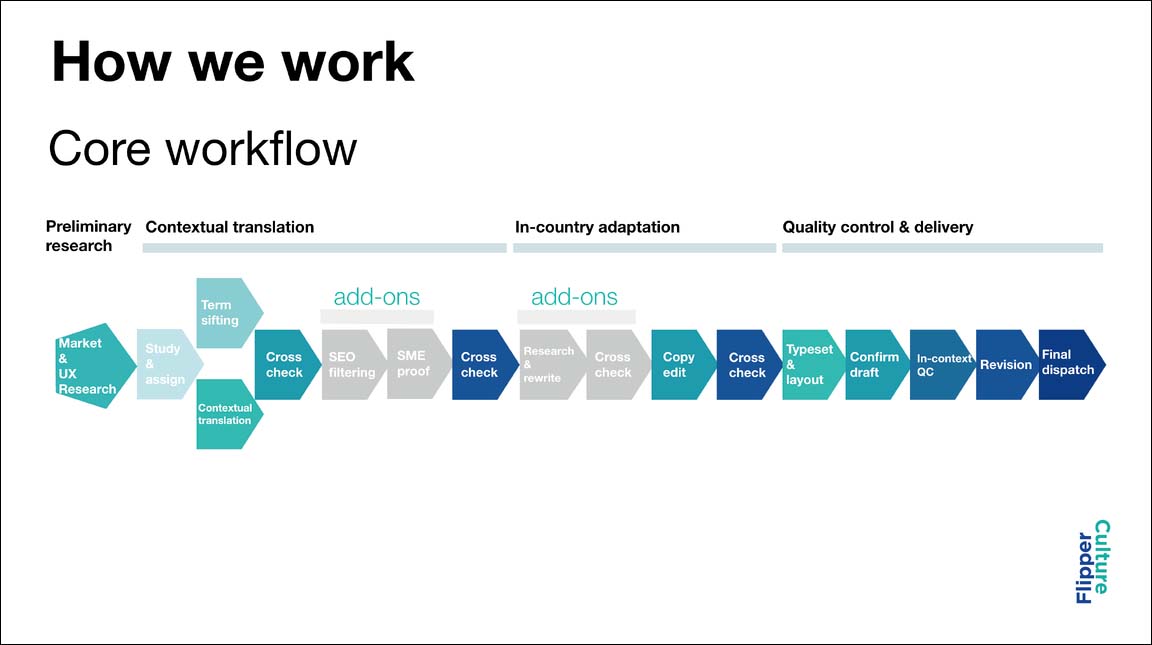 As an underdog in the localization and multilingual marketing industry, the majority of our clients had never heard of us until they experienced quality issues with their existing vendors, which were primarily well-known localization agencies.


Since its foundation, Culture Flipper's work has mainly centered on fixing localization issues of our clients and taking their localization quality and user engagement to the next level.


One of our recent clients, for example, had undergone 4 different localization vendors before discovering us and requesting that we fix their localization quality issues for the Japanese market.


Here's how we work: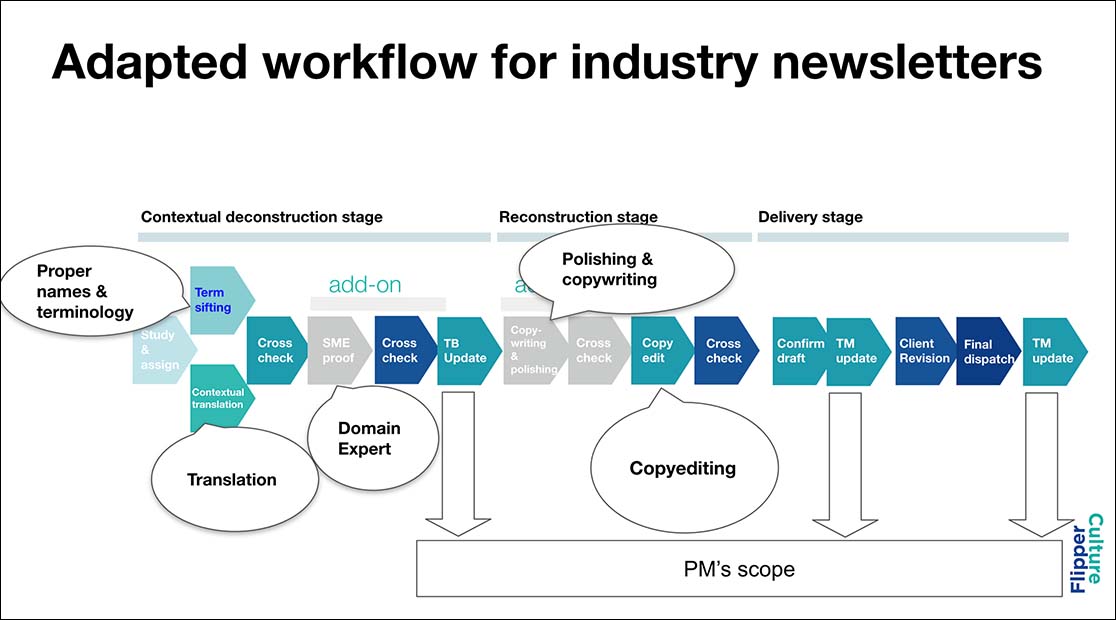 The golden key to truly unlock the secret that makes this workflow successful lies in a) the cross-checking layers after each step and b) the communication between domain experts, copywriters and/or copyeditors and language experts. To effectively achieve collaboration among a vast number of members, the empathetic and clear communication of project managers as well as their thorough project management competencies are pivotal to that end.


We often chuckle when questioned if other companies can simply copy our workflow. Our answer has always been that they can copy but will have to be reduced to razor-thin margins. Sadly, that has been our reality.


We have been increasingly successful in making this seemingly unscalable work more and more effective with our unique process of talent management and experimentation with different ways of streamlining each step (such as term sifting or proper name localization). But we can't forgo essential steps such as multiple cross-checks and copyediting to ensure that the original creator's intent in the source language evokes the intended effect in the target audience (simply put, to make the translation sound as natural and powerful as the source, if not more).


Despite the cost challenges we face as a result of the multiple steps in play, we firmly believe in quality especially when it comes to communication between people of different cultures and languages. The chances are very slim to have one translator who possesses it all: expertise in a variety of domains (e.g. sound engineering yesterday, cryptocurrency trading today, and music industry insights tomorrow), great writing skills, and impeccable editing skills.


That's why we pursue collaboration, and this is how we do it. If we are the only crazy company obsessed with details and quality, so be it. Our company was born to make a difference in the world.


#quality #workflow #CollaborativeTranslation #QualityAssurance #ScaletheUnscalable #craftsmanship #L10n #xl8 #translation #cultureflipper #transcreation